What's preventing millennials from investing?
They're the biggest part of the workforce today, but they aren't investing in their future. What can financial professionals do to change that?
Millennials. They make up the largest group of Canada's labour force and they hold over $824 billion in assets as of 2012. Yet despite that collective wealth, a new study from the Ontario Securities Commission reveals that over half of them aren't investing, and 42% of those who are investing have less than $25,000 set aside.
What's causing this shift in attitude to investing? Why are millennials investing at such a low rate, and what other financial priorities are they focusing on instead?
While millennials aren't investing, they're zeroing in on debt reduction. More specifically, they're zeroing in on student debt. 84% say that paying off student debt is "extremely" or "very important", and 1 in 5 say debt is their top financial concern.
They're holding lower non-mortgage debt levels than their older counterparts, with 67% carrying less than $15,000 in debt, compared to 75% of Ontarians over the age of 45, and only 6% have over $50,000 in debt, compared to 7% of those over 45. However, more millennials (21%) have between $15-50,000 in debt, which can likely be attributed to student loans and consumer debt.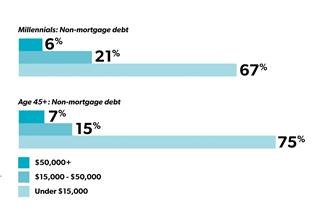 Source: OSC Investor Office, Investing As We Age (September 2017), pp. 37-38
Another financial priority of millennials is saving money. In fact, 4 out of 5 millennials are saving regularly, and 73% put money away every month or with each pay cheque.
If they're saving, why aren't millennials investing?
Financial priorities like debt reduction and saving are two of the key factors preventing millennials from investing, but another is the legacy left from the 2008 financial crisis. With the financial crisis still fresh in their minds, more than half of millennials are worried about losing money in the stock market, and 30% simply don't trust big banks or investment firms.
In addition to a lack of trust (in both the markets and large financial institutions), over half of millennials feel they don't have enough money to invest, and nearly 60% say they don't know enough about investing.
If millennials don't know enough about investing, this is a huge opportunity for advisors to step in to help this cohort. Canadian millennials are less likely to rely on fintech services to manage their money than the rest of the world, and two-thirds are currently working with financial professionals. Clearly, there's an openness to partner with financial advisors, and just like investing, there's no better time than now to get started.
Education is a key step in building lasting relationships with millennials, so that when they are ready to begin investing, you're their go-to resource. Whether that means educating them on better debt-reduction techniques, informing them on the benefits of investing early, or even helping them understand the unique characteristics of different types of investments, that knowledge will help them gain confidence in taking an active approach to investing.
When it comes to being prepared for tomorrow, the only better time to start than yesterday is today.
Like this post? Read our other blogs to get industry insights, study tips, and more.