Back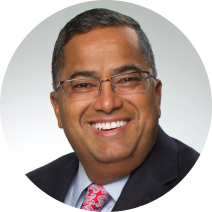 A desire to practice client-centric financial planning led Tony to set up a firm based on this philosophy
Label
Fact
Position:
Chief Marketing Officer
Company:
Canfin Financial Group of Companies
Education:
Royal Roads University
Master of Business Administration
Good read:
The Power of Habit by Charles Duhigg
Memorable travel destination:
Mumbai, India
An independent firm based on client-focused principles
Tony entered the financial services and advisor field because he found he had a talent for analyzing a client's financial situation and coming up with solutions to fulfill their goals and to solve any financial problems they might be having. His unique approach to financial planning led him and his partners to start their own firm, Canfin Financial Group, and, for 24 years and counting, Tony has imparted his client-centric philosophy to his company's advisors.
From engineering to financial services
Tony started his career as an electronics engineer. But he began to look for a role that would allow him to interact with people more frequently and that provided for a better work-life balance. The independent and entrepreneurial spirit of financial services afforded him the opportunity to gradually transition into this new career. Tony continues to see many similarities between engineering and financial planning: carefully analyzing a problem, identifying possible outcomes and formulating a solution.
"I love solving problems, and in Canada it's often said you have two universal problems. Either you're blessed with longevity, but need to make sure your money lasts for the rest of your life. Or you pass on, and leave your loved ones with financial uncertainty. I've always seen myself as a professional solving these potential money problems."
Building a firm based on ideals
It was important to Tony that he could spend adequate time working with clients to find them the right solutions. He reasoned that the best way to implement his own vision of client-centric financial planning was to work for himself, and thus with his partners he founded Canfin Financial Group. By running his own firm, Tony and his group of advisors have the autonomy to take a more holistic approach to servicing clients instead of worrying about maximizing sales.
"As opposed to me being with a giant corporation, where you're scripted with, 'these are the products and this is how you do it,' as an independent advisor I found that no two clients are alike, and no two approaches are the same. Being client-centric means you have to truly listen to what the client wants, as opposed to the one-size-fits-all mass marketing of a larger company."
What makes for a good independent advisor

Acknowledging that his company has a philosophy that might differ from others in the industry, Tony looks for like-minded individuals to bring on board as new advisors. An advisor working for him needs to understand the importance of building long-term, sustainable client relationships, rather than just focusing on selling products. It's only with long-term relationships that the business model of the advisor and firm can truly demonstrate and deliver value to end investors.
"The qualities we look for are a lifelong approach to learning and an understanding that our organization-wide client-centric values and our culture are very, very important. Product-pushing advisors tend not to focus on those qualities. A client-centric advisor focuses on what our firm can do to help clients reach their goals and objectives. And as a company that supports this approach, we also reach our goals in the process."
Lessons from the other side of the world

Tony is active in the industry outside of his firm, and is Chairman of the Canadian Institute of Financial Planning and a board member of the U.S.-based Financial Planning Association. In early 2018, Tony traveled to Mumbai, India to be the guest speaker at a national financial planning seminar, and found the experience changed his views on work and life.
"When I went there, I could see the sharp contrast between the haves and the have nots. It was an awakening. But then, when I entered the room to speak on financial planning, I could also clearly see those in the audience who wanted to make something of their lives. They had the fire inside them to get ahead. During my travels there, I had the privilege to see a mix of everything, and there are people there with ambitions, just as strong as yours or mine."
What would you tell your younger self at the beginning of your career?
"Work on your soft skills: your job is to learn how to manage the client and to help them make the right decisions. When I entered financial planning, I found that the academic and industry materials focused too much on the technical and financial aspects of the business. And they were very light on the human and behavioural dimension, despite the fact that the client is an emotional decision-maker. So, I always tell our advisors, let the fund company or the portfolio manager manage the investments and financial matters. As the advisor, you are the 'investor manager.'"