Back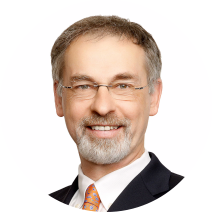 An interest in policymaking underpins Paul's career on both sides of the regulatory aisle
Label
Fact
Position:
President and CEO
Company:
Investment Funds Institute of Canada ("IFIC")
Education:
York University – Osgoode Hall Law School
Bachelor of Laws (LLB)
Good read:
Imperial Twilight: The Opium War and the End of China's Last Golden Age by Stephen R. Platt
Hobby:
Reading, tennis
The voice of the industry
As IFIC's President and CEO, Paul's responsibilities lie with multiple parties. IFIC is an advocacy organization for the investment fund management and distribution industry. However, IFIC also delivers essential services to its member companies in the form of research, data aggregation and reporting, and provides guidance on navigating the regulatory environment. All while putting the interests of investors first. That's not always an easy balancing act, but Paul's experience as a regulator is key to his success as an industry representative.
From prosecutor to policy specialist
Paul began his career as a Crown prosecutor, but found his interests gravitated toward management and policy making particularly with respect to financial services.
"I found as I progressed in my career that the challenges of leading and managing organizations were much more interesting to me than the challenges of the courtroom. I really found it interesting to analyze how to make organizations operate more effectively and efficiently."
Switching from regulator to industry advocate
Paul's policy experience included notable stints with regulatory bodies, including the British Columbia Securities Commission, Ontario Securities Commission and Investment Industry Regulatory Organization of Canada. In addition, he served as Alberta's Deputy Minister of Justice. The opportunity to head IFIC, an industry association seemingly on the other side of the fence, actually aligned very well with Paul's career interests and views of the investment business.
"Joining IFIC was a great opportunity to pursue my interest in regulatory policy on the industry side, and to influence the policy agenda from a different perspective. But my approach has never changed – finding the best balance between investor protection and competitive capital markets. IFIC's position, which is to put the investor experience at the centre of the analysis , was very consistent with my views as a regulator."
Building consensus and working together

IFIC has a very diverse membership, and one of Paul's challenges is to help member companies reach consensus on key policy issues, while also keeping investors' interests front and centre. It is not an easy part of the role, but Paul is proud of the various policy initiatives IFIC has undertaken in recent years to both advocate for its members and for investors. Such initiatives include supporting advisors who are dealing with clients who are "vulnerable investors" (such as those with age-related cognitive decline) and working with regulators to improve the effectiveness of retail financial disclosure.
"It's a challenge to manage all of those interests. What we try to do is achieve a balance between investor protection and a vibrant investment industry to ensure Canadians continue to have access to a wide variety of investment products and advice at reasonable prices. We do that best when we collaborate with regulators and investor advocates on issues of common concern."
Utilizing industry resources

With the financial services industry in a state of constant change, Paul highly recommends current and aspiring financial services professionals take full advantage of the many learning and information-sharing resources widely available. These include IFIC's own network of events, data, publications and online resources, and the training courses offered through its educational arm, IFSE Institute (Paul is also President and Chair of IFSE's Board of Directors). This array of resources underscores what Paul sees as his fundamental responsibility to ensure Canada's investment funds industry continues to do the best work possible for investors.
"In my time here at IFIC I've been impressed by the commitment of all our members, from across the spectrum of the industry, to always put public interests first when considering policy issues."
What would you tell your younger self at the beginning of your career?
"Number one: don't try to do everything yourself. And number two: pay attention to what people do, more than to what they say."