Back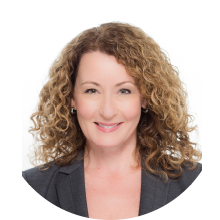 It was a long and interesting road Lori took to become a senior leader in financial marketing
Label
Fact
Position:
Chief Marketing Officer
Company:
Sun Life Global Investments
Education:
Wilfrid Laurier University
Bachelor of Arts, English and Communications
Good read:
A Man Called Ove by Fredrik Backman
Favourite film:
Waking Ned Devine
The art of marketing
As Chief Marketing Officer for Sun Life Global Investments, Lori is responsible for developing strategies and enacting the marketing plans for a national leader in investment management. However, in many ways her path towards this senior leadership role was an unexpected one, illustrating the value of a non-financial educational background and lifelong learning in the financial services industry.
After earning a Bachelor of Arts degree, with a major in English and Communications, Lori began her career as a journalist. It was her time as editor of magazines for financial services that brought her into contact with the industry, in particular her current employer Sun Life Financial. Lori was recruited to build the plan member outreach and education division for the company's pension business, and found her skills and experience immediately applicable to the tasks at hand.
"What I have found was that my skill set was unique and that it was transferrable, though on the surface it didn't seem like it at first. The best advice I would share is to 'stick to your knitting.' I stuck to my understanding of audiences, of digging for deeper insights, and then communicating financial subject matter in a way that the average person can understand."
The value of an arts degree
Lori's diverse background gives her insight as a senior leader into how different skill sets can bring value to investment management organizations. While Lori recruits talent from many different educational and professional backgrounds, including business and finance, she is also a strong proponent of bringing candidates with arts degrees into the industry. That is, if they have the capacity to learn on the job and take advantage of the many supplemental educational and training resources out there for aspiring financial professionals.
"The reason I love hiring arts grads is they have an incredible discipline around how they learn. They can take complex information from various sources and distill it down into digestible chunks, putting it into a format that helps the average Canadian absorb complex financial information."
Commitment to lifelong learning

However, Lori can't stress enough the importance of continually learning about the industry, whether you're an arts grad or otherwise. In many cases, she requires new hires to increase their financial services knowledge through both on-the-job learning and more formalized supplementary education, such as IFSE's courses and other types of accreditation. As a board member of IFSE, she's a strong believer in the value of financial professionals constantly upgrading and enhancing their knowledge in this dynamic and fast-paced industry.
"I would say that if you're an arts grad reading this, or if you have an arts background, I would highly recommend that you take financial services courses, such as IFSE's training courses. It will further your career: if someone like me is looking through résumés, and I saw that those courses are there, it helps move you to the top of the pile."
What would you tell your younger self at the beginning of your career?
"Take more chances. I spent 17 years in magazine publishing and it was amazing, but unless I had all 10 of the 10 skills that were listed on a new job posting I wouldn't even apply for it. Now I realize that if you have 6 out of those 10 things, you should still apply. It's about progress, not perfection. Keep grasping for those new opportunities. They may not all work out, but you'll meet new people, learn new things and just keep moving."