Back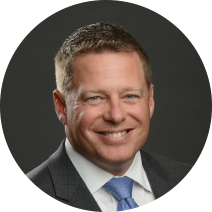 A broad-minded approach to education and career paths gives David insight into what investors need
Label
Fact
Position:
Vice President, CIBC Purpose
Company:
CIBC
Education:
McMaster University
Bachelor of Arts, Psychology

Chartered Financial Analyst

York University, Schulich School of Business
Masters Certificate, Financial Services Leadership
Good read:
The Essays of Warren Buffett: Lessons for Corporate America by Fredrik Backman
Hobby:
Baseball (youth coaching and rooting for the Blue Jays!)
An interconnected philosophy
When David thinks about his approach, and that of CIBC, to wealth management and financial planning, the term "holistic" comes to mind. While wealth management and financial planning can be treated as separate functions, David believes they are often joined at the hip. For example, in the case of a given client under the CIBC Imperial Service mass affluent advisory channel, he finds that all aspects of that client's financial life are interconnected, and he ensures these principles are a key component of the solutions he provides for investors.
From physician to finance
David's earlier intended career path was quite different from finance. His original intent as a university student was to complete his undergraduate degree in psychology, move on to study medicine and become a physician. However, to help support his studies, David took a part-time job at CIBC, and discovered his affinity for financial services.
"I think a psychology degree allowed me to be a little more well rounded in terms of not having a single-minded focus on commerce and finance. Psychology gave me an interest in things like behavioural finance and how to have intelligent and empathetic conversations with clients."
David is a firm believer in integrating the ability to empathize and communicate with people with business and technical acumen. At the beginning of his career he vastly upgraded his financial and industry knowledge and gained relevant accreditations. He started by taking introductory industry courses and then moved on to becoming a Certified Financial Planner® and Chartered Financial Analyst.
"Always think broadly. If you're contemplating a particular series of courses or an accreditation, think about where it rounds you out, and where it doesn't. I think having a breadth of education is key: an understanding of the educational path you're pursuing, what it gives you, and then honestly assessing what you still need to learn."
What makes for a good financial advisor

Speaking from his own experience, David cites diversity in educational background and experience as an advantage in financial services. Even within one organization, like CIBC, so many seemingly disparate roles are often interconnected, so a focus on just one aspect of the business isn't necessarily the best approach. In addition, a strong intrinsic motivation to make a difference in the lives of clients and investors is a vital part of the role.
"I have a lot of people approach me when pursuing the CFA, and tell me, 'I want to be a portfolio manager,' or, 'I want to be an analyst.' If you ask them why, they don't necessarily know, and sometimes it's because they don't know what someone in that role actually does. So, having a diverse background can sometimes help with answering the 'why' question."
Always look for learning opportunities

The interconnectedness of roles within a large organization is key to providing opportunities to grow your career in one company. However, David stresses the importance of keeping your mind and ears open and learning about as many aspects of your firm's business as you can.
"The reality is, so many roles are interconnected. There's no role that is not connected to a client or a stakeholder in some fashion. So, it's always helpful to network and have conversations with people in the industry to get examples of what a 'day in the life' is like, and what key skills are needed for it."
What would you tell your younger self at the beginning of your career?
"Know your purpose. Figure out why you're doing what you're doing. I've worked with clients directly, I've led and trained financial advisors, and the common thread for me is this: we can truly make a difference in people's lives. That's what keeps me motivated, and it provides a good grounding and moral compass."