Back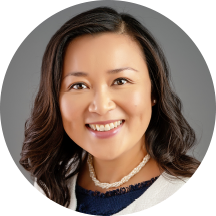 A committed advocate for the financial services industry, Christina continually strives to empower financial professionals with increased knowledge for long-term success
Label
Fact
Position:
Managing Director
Company:
IFSE Institute
Education:
University of Alberta
Bachelor of Commerce
Good read:
Lean In by Sheryl Sandberg
Favourite film:
A Room with a View
Helping elevate industry professionals
Throughout her career at IFSE Institute, Christina has assisted financial firms with the right educational solutions to meet their business goals. She serves as a strong advocate for the financial services industry, raising the profile of the financial advice profession and the rich ecosystem that supports it. Her previous experience advising clients has given her a unique perspective in providing training and education to current and future financial professionals.
A solid foundation, refined by industry education
As part of her business studies, Christina took several finance courses, which sparked an interest in pursuing a career in financial services. After graduation, she started taking industry courses to build up her knowledge base to become more marketable to employers. As her career progressed, she earned a Certified Financial Planner® designation, which was a powerful launching off point.
"My education, along with industry courses, led to my first opportunity working in the industry."
Journey from financial advisor to educator
Christina spent several years working in a client-facing capacity at different financial firms. It was a rich learning environment where she was able to build up her knowledge about the industry and its products – including how firms operate and best practices for working with clients. Eventually, Christina decided to seek a new challenge. It made sense to look at openings that were affiliated with the industry so she could leverage her experience and expertise. Education seemed the right fit and she landed a role at IFSE in curriculum development.
"I can relate to our students because at one time, I was one of them: juggling work and studying for my proficiency exams! I also have the perspective to appreciate the value of the education IFSE provides. The knowledge we impart on our students directly impacts the quality of advice they provide to their clients."
Navigating a complex world

The industry has shifted and evolved since Christina was an advisor, with the introduction of new technologies like robo-advisors, the creation of new products and greater regulatory obligations. However, with this increase in complexity Christina sees enormous opportunities for those in the field today. Investors need someone to help them through the labyrinth of technology, products and regulations. Although the industry has progressed, its fundamental commitment to investors remains constant.
"Here at IFSE, we always keep an eye on what's going on, making sure that we're providing the knowledge that people need to be able to be successful in this industry."
Career opportunities are available at both financial firms and with companies that service those firms such as software providers, consultants, legal and compliance advisors, accounting and tax specialists, trade associations, media publications, event and conference organizations, and more.
"Job seekers should consider the possibility of working for a company like IFSE. One that provides a valuable service to those working directly in financial services."
What would you tell your younger self at the beginning of your career?
"Firstly, I would say, speak up and be heard. I think women especially don't always make their thoughts and opinions known or have the confidence to express them. Don't be afraid to take risks and seize opportunities when they come. Sometimes, the opportunity is not what you expect, or what you even thought of, but it can lead you down a very interesting career path. Lastly, don't worry: worrying about something that may or may not happen can take up a lot of unnecessary energy. Focus on what you can control. And in the end, things always work out."