Back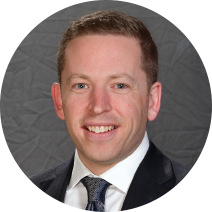 Lessons learned from outside the classroom during his university days still guide John in his career today
Label
Fact
Position:
Director of Advisor Experience,
Southwestern Ontario Region
Company:
Freedom 55 Financial
Personal motto:
Don't let perfect be the enemy of good
Memorable travel destination:
New Zealand
Hobby:
Coaching varsity rowing
Advising the advisors
Identifying, recruiting and developing advisor talent and advisor practices is John's primary role at Freedom 55 Financial. His career growth and approach to coaching advisors were heavily influenced by two side pursuits during his university days: retail sales and athletics.
An unconventional start to a career in financial services
John's career began in university, but in a setting far away from any classroom. To help support his studies, John worked in retail sales in a medium-to-high-end menswear store in London, Ontario. Many of his customers were managers and executives at the head office of London Life, the company Freedom 55 Financial was spun out of and which was headquartered in the city. This proved to be a valuable networking opportunity for John, which led to him launching his career as a financial advisor.
"It turns out that one of my customers at that time was in charge of Freedom 55 Financial, and oversaw its rebranding when The Great-West Life Assurance Company bought London Life. We got along really well, and one day he said, 'You know, I want you to meet with someone'."
Another major influence on John's career has been a long-time hobby: rowing, as both an active rower and now a varsity coach at the University of Western Ontario. He sees parallels between his athletic coaching pursuit and coaching future advisors with respect to the discipline, resilience and focus needed to succeed in both sports and business.
"It was when I started getting back into coaching that I transitioned into the role I am in now, because I realized I enjoyed developing talent. I find that having an athletic background helps you stick to a plan, like early-morning practices and strength training, and enables you to work towards a longer-term goal. Sometimes it's not particularly fun: it can hurt a lot, and it can be tiring. But it teaches you resilience and teamwork."
How to spell success as a financial advisor

The qualities that John looks for and further develops in advisors go beyond just product knowledge and financial expertise. Personal qualities that an advisor needs include empathy, problem-solving, resilience and drive.
"The most important thing is understanding that it's not a glamorous role. It requires a lot of hard work, calling and meeting people and identifying the clients who need the services you provide. And once you do meet those people, it's not really about salesmanship. You need to have the conviction to help them."
What would you tell your younger self at the beginning of your career?
"Find a mentor or someone to advise you. Don't be afraid to ask for help. And don't have an ego."