Back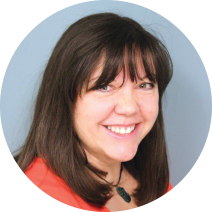 From branch office to head office and beyond, Pat's work has taken her to the other side of the world
| Label | Fact |
| --- | --- |
| Position: | Manager, Operations Administration |
| Company: | Manulife Securities |
| Good read: | One Minute Manager by Kenneth H. Blanchard and Spencer Johnson |
| Hobby: | Training a new puppy |
| Memorable travel destination: | Manila, Philippines |
| | |
From assisting the front office to managing head office
As the manager of processes, operations and administration for one of Canada's largest investment management firms, Pat leads a large team responsible for nearly all aspects of managing client accounts, from account opening, to maintenance, to funds transfer. Her professional journey began at a young age: Pat's aunt was a role model, advancing from a bank teller to a management-level position back when the financial services industry was very male dominated.
After starting a family, Pat sought to re-enter the workforce, and knew that an educational and skills upgrade was in order. The nature of this upgrade became crystal clear when she saw the level of technological advancement already in her children's elementary school classrooms. She decided to enrol in several college-level business and business software courses. Now as a manager, she reminds new hires and prospective applicants of the importance of these core and fundamental office skills.
"You can't spend enough time on core business requirements, and you should be able to speak and articulate your thoughts clearly. Plus writing skills, reading skills, editing skills, and advanced skills in Excel. Often, you're looking at large spreadsheets or big data sets that you need to crunch very quickly: without Excel and basic Microsoft office skills, you'll have some trouble. Excel and Access I think are underrated and undervalued."
Starting at the frontlines

Pat began this next phase of her career as an assistant at an advisor's practice for Berkshire, which was eventually acquired by Manulife Securities. This role provided Pat with invaluable insight into her eventual head office role, as she could see the direct importance of a company's corporate-level activities to advisors and investors.
"Being able to help make clients happy was a big part of this experience at the branch, and making investors comfortable so that they understood we're here to help. A lot of clients are not used to investing, and when you're new to investing it's scary. You're trusting somebody else to manage your life savings. That, to me, was something that resonated."
Bringing her perspective to the head office

Her branch experience brought Pat into contact with many head office representatives, the very department that executes account activities that are initiated at the branch level. When she was looking for new challenges she inquired about roles in investment operations and administration. The level of expertise she brought made this an easy decision for the hiring manager, and Pat's knowledge of advisor practices and processes proved invaluable when it came to training branches in fulfilling head office requirements with respect to account openings, trades and other operational functions. An internal merger of operational groups created an opportunity for Pat to become the processing and administration manager at Manulife Securities.
"I've worked hard, but I've also had a lot of opportunities and a lot of great leaders who mentored and helped me get to where I wanted to be. I like having the opportunity and the flexibility of picking up the phone or just going out and doing a branch visit when I need to. It helps keep me engaged and apprised of current trends or issues at the client-facing level."
Across Canada, across the globe

Pat's career at Manulife Securities has taken her to front-line branches across the country. But her management role also introduced her to an increasingly common aspect to working at a global company: having colleagues and reports in offices overseas. In Pat's case, a large proportion of her team is located in Manila, Philippines. One of the most valuable experiences for her was visiting her team halfway around the world, and learning about how diversity and cultural differences can benefit a company. The level of teamwork and group commitment she witnessed at Manulife's Manila Business Processing Services team inspired her to create more team-building activities in the Canadian office, particularly involving charity.
"Our team in Manila is definitely committed as a team: they share their lunch, they'll share anything they have. It's definitely a different culture than we have here. You have to pay attention to culture, and make yourself aware of the local customs so that you can effectively share knowledge and information."
What would you tell your younger self at the beginning of your career?
"The big thing that I have learned is patience. Make sure you learn how to pace yourself so that you see everything before you move forward, so you don't have to redo things. And I think that's something that we really strive to share with our teams today. Better to do it right once than do it wrong multiple times. Better to go slow and steady; that wins the race as opposed to rushing from fire to fire."