Back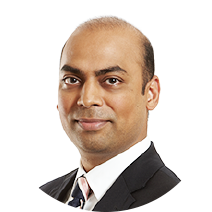 Kevin charts a course forward for one of Canada's fastest growing investment products
Label
Fact
Position:
Global Head of Exchange Traded Funds ("ETFs")
CEO and Country Head (Canada) Senior Vice President and Chief Investment Officer
Company:
BMO Global Asset Management
Education:
University of Waterloobr
Bachelor of Arts – Economics
Good read:
Thinking, Fast and Slow by Alice Schroeder
Memorable travel destination:
Kuwait City, Kuwait
Taking an investment giant into the future
Kevin wears many hats as CEO and country head, CIO and head of ETFs for a global asset management leader. He serves as a prominent public face of BMO Global Asset Management in Canada, but is also responsible for overseeing the bank's investment mandates and risk management programs. Furthermore, he's been charged with steering the ship in one of the fastest-growing market segments in Canada: ETFs, funds that trade on exchanges like common stocks.
Interest in finance sparked early
While studying economics and finance at the University of Waterloo, Kevin discovered he had a keen interest in the capital markets. He credits his formal education with exposing him to diversity of ideas and helping him to structure his thinking. But it was his passion for the industry that led to his decision to carve out a career in financial services and a leap of faith that drew him to shift gears to the fledgling ETF markets.
"Although formal education is important, it's not the deciding factor in someone's career success. It can be the case that formal education helps you think in a more cohesive, structured fashion and be able to communicate more succinctly. But when I look at my portfolio management teams here, it's not so much about what they studied or whether they have formal education, it's about their interest and passion for the industry. Do they have drive? Are they willing to be bold and take that leap of faith?"
The fast-growing ETF market
Kevin now finds himself at the helm of BMO Global Asset Management's ETF strategy, tackling a segment of the market that is one of the fastest growing in Canada. As Canadian investors continue to explore the benefits of low fees, transparency and convenience that ETFs represent, Kevin is particularly excited at the potential for further innovation in the domestic market. He sees ETFs as another instrument that can be added to the toolbox of advisors and investors, alongside other investment products such as traditional mutual funds.
"The regulatory environment in Canada is unique, whereby it's more favourable to be creative and innovative here than it is in other regions. And that's why in Canada, particularly, I see a lot more potential for growth going forward."
One of the major challenges that Kevin sees in the ETF industry may be good news for prospective financial professionals: a shortage of talent. He encourages current and future industry professionals to learn as much as they can about ETFs, including their structure, distribution channels, design and similarities and differences compared to other investment products. In particular, Kevin sees career opportunities for professionals who understand ETF sales, product development, portfolio construction, analysis and marketing.
"Since ETFs are such an emerging area of growth, ETF providers are looking for ideas. If you come to them with a good idea, and if there's a good fit, you might find that they can make a role for you. As an industry we need to grow, and our growth isn't going to be defined just by job postings."
Kevin often thinks of how he came to the position he is in now. A recent trip to Kuwait was an eye- opening experience. Seeing migrant workers in the hospitality industry there, from India or of Indian descent, made him appreciate how lucky he has been in his life and the importance of seizing on opportunities. He recognizes that someone's intelligence or potential are not necessarily correlated to his or her social-economic background and that it's important to identify and develop talent in others regardless of where they come from.
"It had me thinking, 'How did I get here, to where I am now?' I've been very fortunate in my life and many individuals around the world have not had the life I have had. There are smart people everywhere but they don't always have the opportunities available to them. I'm humbled by the fact that luck played a part in my success so I want to create those avenues for others to succeed. My advice to them would be to believe in yourself, be passionate and driven, and put luck in your favour."
What would you tell your younger self at the beginning of your career?
"Stay nimble. What I'm doing now is nothing I envisioned in the past, even with the experience and the knowledge I had going into this industry. You just have to be adaptable."